Posted by Dr. Cannon on Jul 8th 2022
An ear pillow is a pillow with a hole in the middle that lets people with ear pain sleep better.
The ear pillow with a hole for your aching ear creates a distance and cushion between your ear and the bed. It helps with almost all types of ear pain.
We have reviewed some of the top ear pillows with a hole in this article. You'll find information on how a pillow with a hole helps with different types of ear pain.
Who can use a Pillow with a Hole?
Here are the top ways a pillow with a hole is used.
A pillow with a hole or an ear hole pillow helps CNH patients sleep better and heal quicker.
The ear hole pillow helps in painless recovery from Otoplasty surgery. Your ear does not move, does not pain and you can also enjoy your sleep.
If you are having ear sores pain during sleep, a pillow with a hole in the middle is your best aid. Your ear sores won't touch the pillow or the bedding and you won't have to bear any pain.
People with ear piercings can also benefit from a pillow with a hole. Ear piercings are painful in the first few days. If your ear gets under your head, you will experience sharp pain and it may become hard for you to sleep. Having a ear piercing pillow with an ear hole by your side can save you pain and discomfort.
There are many other causes of ear pain, you can use the ear hole pillow for every type of ear pain. It will speed up your recovery, protect you from discomfort, and guarantees a good night's sleep.
Reviews of the Best Pillows with a Hole
You are probably looking for a pillow with a hole to make your life easier. Let us help you with your quest. We have reviewed some of the best pillows with a hole available on the market and explained why they are a top choice for an ear pillow. Read along!
SleepEasy CNH Pillow® Original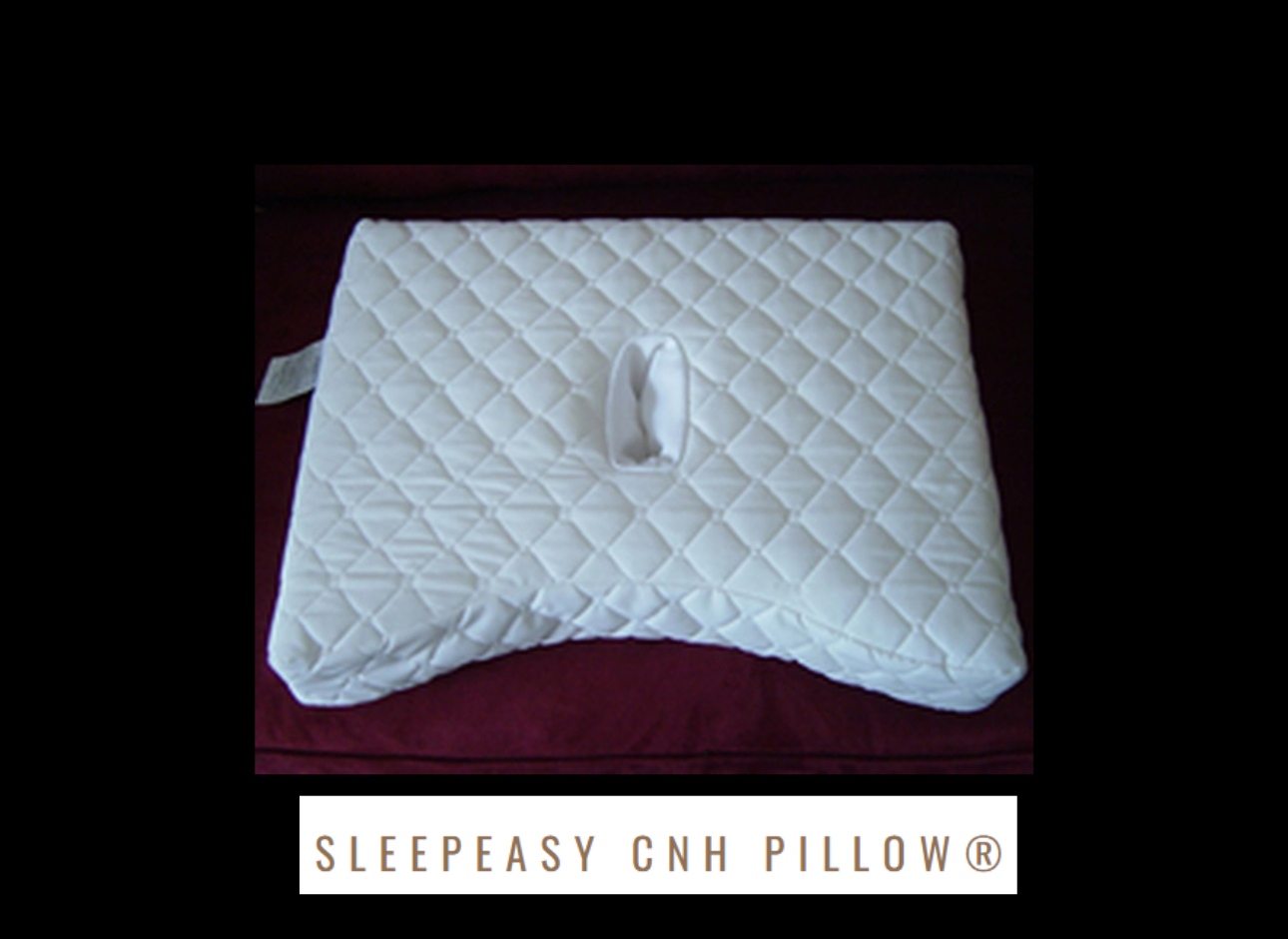 SleepEasy CNH Original Pillow was our first ear pillow with a hole for CNH pain and it is still our hero product.
A go-to ear pillow for CNH patients, this is the pillow that packs the most value.
SleepEasy CNH Pillow is our original pillow with a hole. It is filled with memory foam, adjusts to your body, and stays fresh for long.
There is no off-gassing, no odor in this pillow with a hole for ear and you will get good comfort.
Being a good pillow with a hole in the center, it gives a cushion to your ear and ensures good sleep.
SleepEasy CNH Pillow with hole review shows that it is suitable for people of all ages and works perfectly for all types of ear pains including ear soreness pain, CNH Pain, ear-piercing pain, and Otoplasty surgery pain.
Using a pillow with a hole for your ear prevents the spread of infection with its effective prophylactic properties.
SleeEasy Original Ear Pillow comes with a 100% cotton, removable and machine-washable pillow cover.
See our guide on the best pillow for ear pain and compare top choices to pick the one most suitable for your needs.
SleepEasy CNH Pillow® Cotton Comfort
SleepEasy CNH Cotton Comfort PIllow is a starter and versatile ear pillow.
SleepEasy CNH Cotton Comfort Pillow is an adjustable ear pillow with hole. You can take out or insert more foam into the pillow and make the height perfect.
SleepEasy Cotton Comfort pillow with hole in the middle has breathable, poly fiber fill. The pillow cover is 100% cotton, and washable.
If you know a side sleeper with ear pain, gift them this side sleeper pillow with ear hole. They will thank you for making their life easier.
SleepEasy CNH Pillow® 4"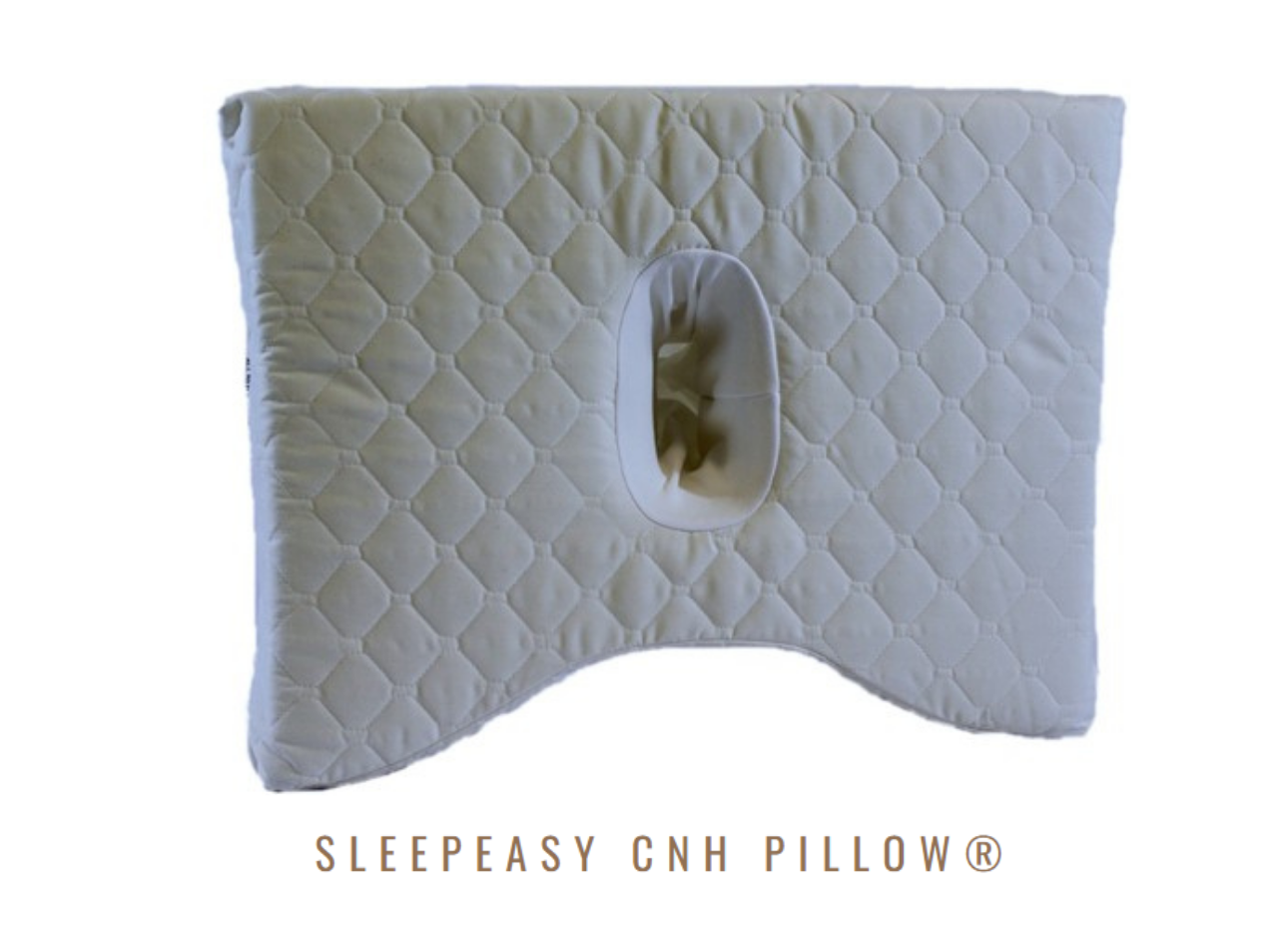 SleepEasy CNH Pillow 4''is a small pillow with hole in middle for relieving ear pain. It is 4 inches high and it will be a suitable pillow for most people.
This pillow with hole for ear is a perfect travel pillow for people with ear pain or ear piercing. It is small and compact and you can carry it around in your suitcase.
Designed by a dermatologist, this pillow for ear pain works fine for CNH patients, people with ear piercings, and ear sores patients.
SleepEasy CNH Travel Pillow®
SleepEasy CNH Travel Pillow is a small size ear pillow that is small enough to fit inside the suitcase and comfortable enough to give you a good night's sleep.
People with ear pain cannot sleep comfortably without an ear pillow. Either they will have to sleep on one side for the whole night or they will have to bear ear pain.
Sleeping is especially difficult for people with painful ear piercings. Mostly, people get ear piercing on both ears and they only have the option of sleeping on their backs for the whole night, which is not comfortable.
Keep a SleepEasy CNH Travel Pillow in your travel suitcase. This is lightweight, and easy to carry and it serves a brilliant job of rescuing you from ear pain.
CNH Donut Pillow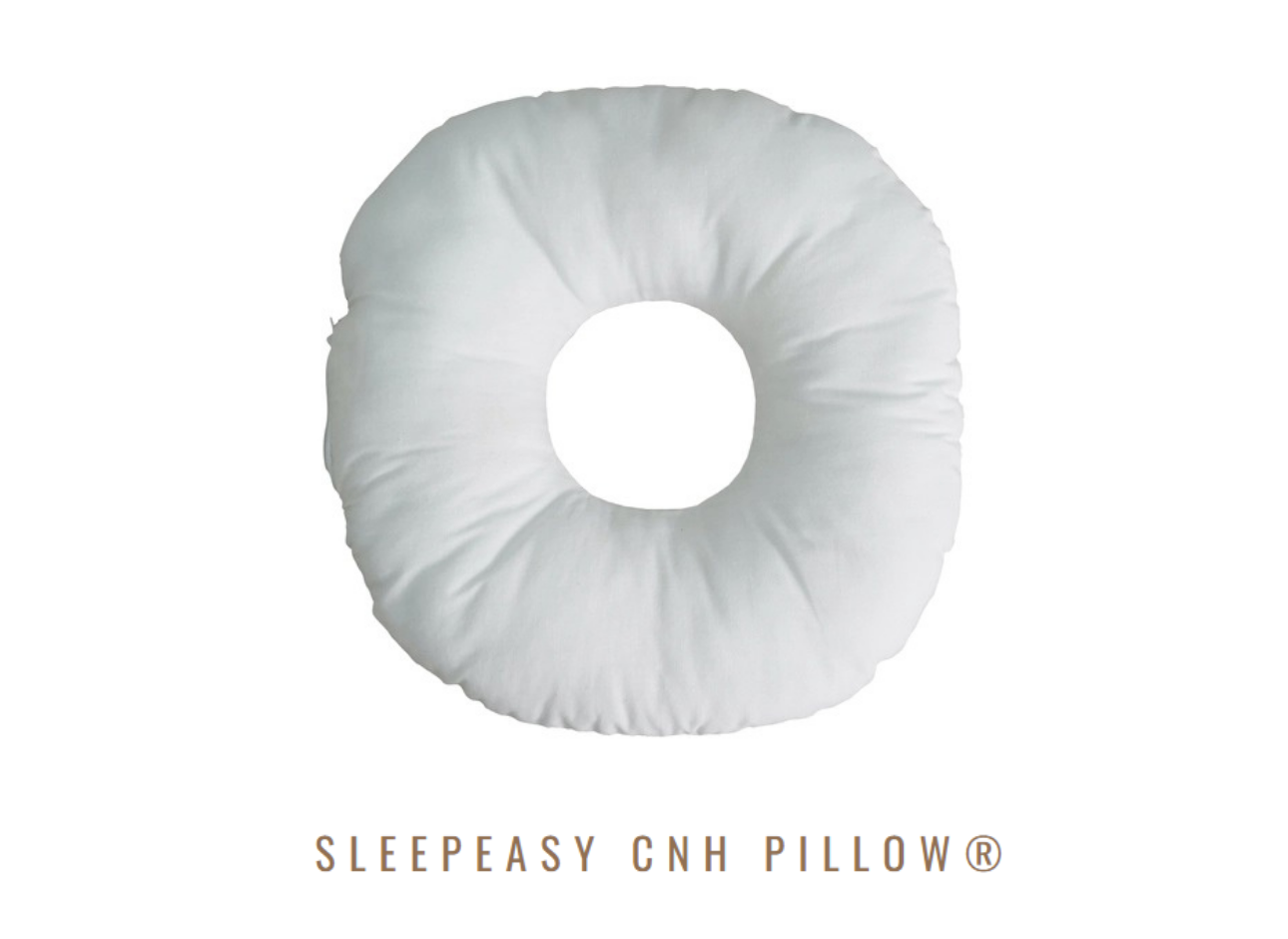 CNH Donut Pillow is our round pillow with a hole in the middle.
It is an ergonomic pillow and it helps relieve your ear pain. It is a small pillow with a hole for your ear. You can also use SleepEasy ear hole pillow as your travel ear pillow as it can easily be carried with you.
See our detailed guide on Best Donut Pillows for Ear Pain and compare top choices.
SleepEasy CNH Pillow® Extra Pillow Cover (Fits Foam Pillows)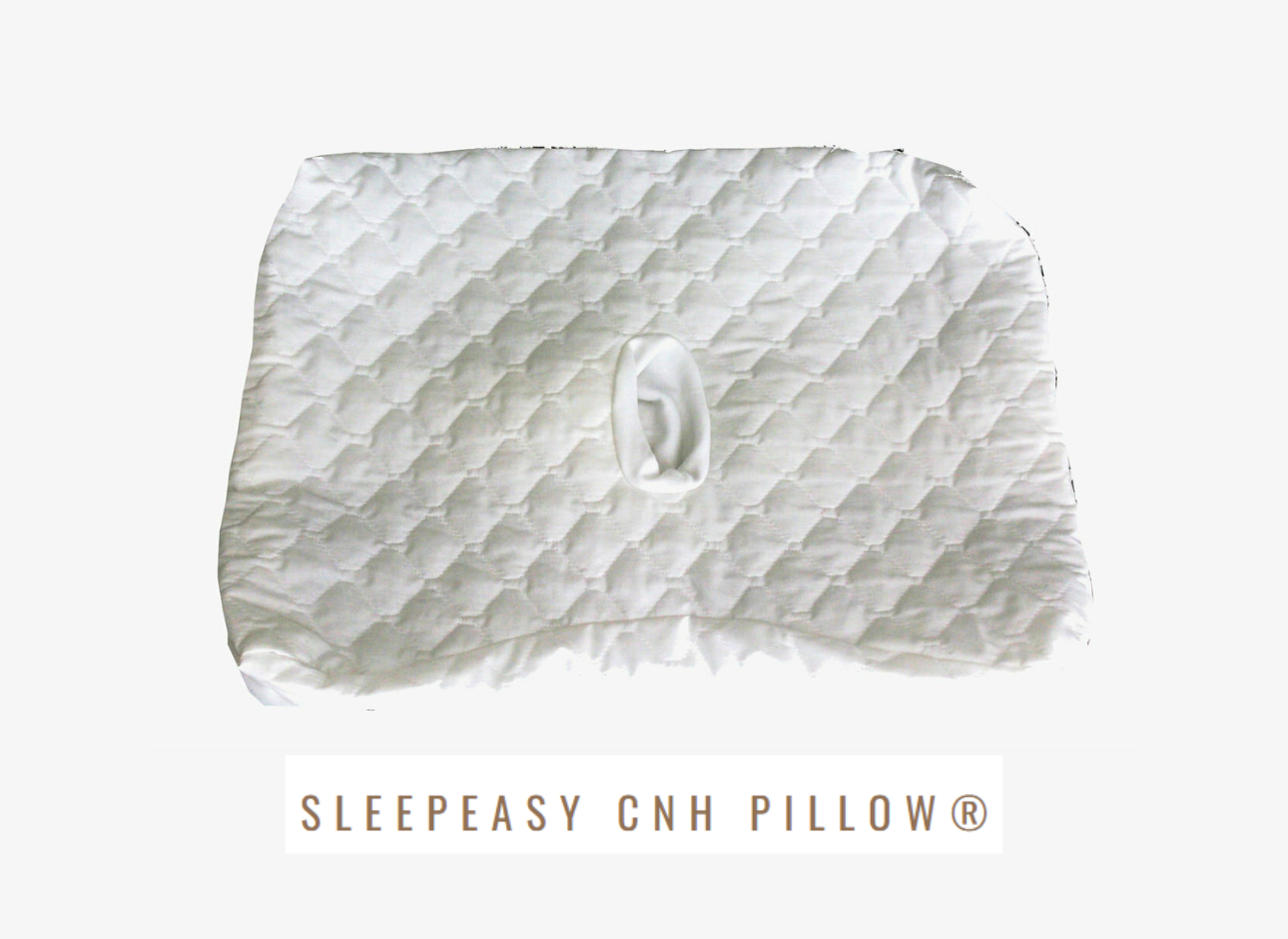 Keep an extra pillow cover with you in case you need to change your ear pillow cover.
Sometimes, your ear may release odorous fluid or the pillow cover may become stinky with time.
Get a SleepEasy CNH Pillow Extra Pillow Cover. This ear pillow cover is made with quilted fabric with a 100% cotton exterior and polyester backing.
How Side Sleeper Pillow with Hole Help You with Ear Pain?
CNH Pillows or Ear pillows create a cushion between your ear and the bed.
There is a hole in the center of each ear pillow. That hole keeps your ear away from the bed. Your ear does not get any pressure, rubbing, or squeezing and you can sleep comfortably on your side despite ear pain.
Ear pillows CNH pillows are helpful for different ear pain conditions including:
CNH pain
Otoplasty Surgery pain
Ear Soreness
Ear Piercing pain
Helpful Tip: If you just went through otoplasty surgery, see our guide on How to care for your ears post otoplasty surgery.
How to Make a Pillow with a Hole?
You are on a tight budget and you want to know how to make a pillow with ear hole at home?
The process is simple; you'll need to buy an ear pillow cover as the proper cover is necessary for a functioning DIY ear pillow.
Here is how you can do it.
Find a good quality pillow from your home
Remove the pillow cover
Draw a circle in the center with some tool
Take out the foam from that circle
Put this new pillow with a hole inside the ear pillow cover that comes with a hole already.
This is a quick fix if you need an ear pillow and you can't wait. We recommend that you get a high-quality ear pillow, like SleepEasy CNH Pillow Original which guarantees peaceful sleep.
How To Take Care Of Your Ear Pillow?
You can take care of your ear pillow by following these four tips.
Keep your ear pillow inside a pillow cover
Wash the ear pillow cover after every few weeks
Keep it separate from other daily-use pillows
Wash every 3-6 months with warm water and mild detergent
FAQs
Why Does My Pillow Hurt My Ears?
If your ear hurts after sleeping on a pillow, the possible reasons may be:
Sleeping on one side for too long
Rigid pillow
Very friable elastic cartilage in the ear making it very supple and soft and thus causing pain
An underlying ear condition that may need a medical checkup
Finding a pillow that doesn't hurt my ears? pick a soft pillow like SleepEasy CNH Pillows, try it for a few nights and the problem will go away.
Why Does My Ear Suction To My Pillow ?
The most probable cause of ear suction to your pillow is ear wax. Your ear may not be functioning as it should and it is not pushing out the excessive wax causing ear suction to the pillow.
When the ear is functioning as it should, it pushes out excessive wax in the shower, or during sleep without any interference.
Can Pillows Cause Ear Infections?
Your pillow can cause ear infection if it was not washed for a long time and the bacteria and fungi had built on the pillow.
Wash your pillows every 3-6 months with warm water to end the chances of ear infection from your pillow.
Can Hear Pulse in Ear On Pillow or Can Hear Heartbeat in Ear on Pillow?
Hearing pulse in the ear on the pillow is normal. Sometimes, wax buildup increases resonance and you hear your heartbeat.
Another possible reason is weight loss which causes the eustachian tube stuck open and makes blood flow and heartbeat audible.
Can Memory Foam Pillows Cause Ear Problems?
Memory foam pillows can cause ear problems in three scenarios:
The pillow is very rigid
The pillow is dirty
There are bacteria and fungi buildup on the pillow
Get a softer memory foam pillow for your ear or wash your current pillow with warm water.
What Is The Best Pillow For Ear Pain?
SleepEasy Original Ear Pillow is the pioneer and the best ear pillow on the market. It is soft, adjustable, and comes with a wide hole for the ear. The pillow cover is also washable.
Why Do My Outer Ears Hurt When I Wear Headphones?
The most probable cause is a poor fit.
When you are using headphones, see if your ears are in a comfortable position. If you are using headphones too tight or you feel discomfort, you may experience outer ear pain with time.
Try using headphones that cover your ears and don't put pressure on the ears.