Posted by Dr. Cannon on May 21st 2022
What are Ear Pillows?
Ear Pillows come with a hole for the ear. The ear hole saves your ear from any squeezing or crushing while you sleep and helps you heal from ear injuries, ear pain, soreness, surgery, and CNH ailment.
An ear pillow helps you get good sleep by removing any friction or pressure from your ear. The hole in the pillow does not let your ear touch the pillow or bed. Sleeping well goes a long way in making you healthy, for that, you need the best pillow for ear pain available on the market.
How Does Ear Pillow Help?
When you sleep on your side, your ear is under the weight of your head, and face friction against the bed & pillow. This often causes sweating and irritation in the ear even when you do not have any ear pain or discomfort.
The ear pillow helps with ear pain, CNH, soreness, or any other ear discomfort by removing the friction and pressure.
In the daytime, our head is mostly in a vertical position. We seldom face any friction or pressure on the ear in the daytime unless we are wearing some headwear or we accidentally bump our head into something. While at night, especially for the side sleepers, either of the ears will be facing rubbing and irritation against the pillow.
This is where the ear pillow, or the donut shaped pillow, helps the most. Removing this friction, the ear pillow helps us get a good night's sleep and helps heal ear ailments. The best pillow for ear pain would be the one that would eliminate this night's discomfort and ear friction fully (or almost fully).
Ear Pillows and Side Sleepers
Side sleeping is the most popular sleeping position. This sleeping position is demanding on the ears and you will need to take care of your neck, shoulder, and backbone alignment.
Some people sleep on their back. If you are a committed back sleeper, you are in luck. Back sleepers do not have to worry about ear pain and if they are recovering from an ear problem, they will heal relatively easily. This is because their sleep position does not put any strain on their ears.
Side sleepers often prefer having many pillows. If you are a side sleeper like me, it feels nice to have a pillow under the bent-up leg.
It is also recommended to change your pillow about every 18 months. If you are using your current pillow for years, most likely it is not giving you the best support. The pillows get flat with time and get stains, odours etc, making them unpleasant. If your pillow gets warm or it has become flat and smelly, you should consider replacing your pillow with a new one.
We have also included some pillows that are made for side sleepers only.
How to Select an Ear Pillow?
You can make use of these four criteria when selecting the best pillow for ear pain for your unique needs.
1. Pillow Height
The pillow height determines your sleep comfort. Your pillow height should be around your neck length when you sleep. Though this is not a scientific formula for pillow height and is only a finding of experience and observation, a pillow with the height of neck length will suit most people. Or, measure your most comfortable pillow, note its height and buy a new pillow with the same height.
2. Filling Material
Ear pillows come with different filling materials. The most common materials are polyurethane, polyester fiber, and memory foam. Each material has its advantages. For example, the pearl-like polyester fiber filling pillow is adjustable; you can adjust the filling as you want. The memory foam pillow adjusts better to the neck and head and lasts longer with the added benefits of hypoallergenic and hygiene.
3. Size and Position of Ear Pocket
You may need to check the ear pocket size of the ear pillow. The ear pocket is mostly of the standard size. Some ear pillows come with one ear pocket and you will need to adjust yourself every time you take a turn. There are ear pillows with two ear pockets, you can turn sideways while asleep without worrying about the ear pocket position.
4. Comfortable Pillow Shape
Ear Pillows come in three shapes, square, curved and L-shaped pillow. The square pillow is similar to the flat pillow but with a hole. Many square ear pillows come with only one ear pocket. SleepEasy CNH Ear Pillow is one example of such a pillow.
The curved ear pillow is a D-shaped pillow with extensions on both sides for the shoulders. Womfy Ear Pillow is one of the examples which comes with ear pockets on both sides. This is a small size pillow.
The L-shaped curved ear pillow comes with an ear pocket but, due to its unique design, it also offers good support to the head, neck, shoulders, and back. It is as effective as square and D-shaped pillows with the added advantage of supporting shape for the side sleepers.
Another type of ear pillows is travel pillows with ear holes/travel pillows with ear pockets. These are the same as the regular ear pillows with ear pockets. You can use the travel pillows for ear pain when traveling long distances saves you from the CNH pain, or ear soreness pain.
5. .Soft Pillow Cover Material
Pillow cover material adds to the comfort. A 100% cotton pillow cover will be better; a bamboo pillow cover will be the best. Bamboo fabric pillow covers are soft, machine washable, very comfortable, and last long. A bamboo pillow cover for ear pillow provides a premium experience.
6. Pillow Hole Across the Pillow
The ear pillows that come with a hole for the ear, like SleepEasy CNH Ear Pillow let the air follow. The hole ventilates the pillow. However, ear pillows with only an ear pocket only give space to the ear and do not ventilate. If you get sweaty easily, the ear pillows with a hole will be a better choice.
Pillow with Ear Hole
A pillow with ear hole is another name for ear pain pillow. The ear hole makes it easier for the person to sleep with ear pain and it stops the ear pain condition from worsening.
Top Choices for Best Ear Pillow for Ear Pain
Our selection of the top contestants for the best ear pillow for ear pain will help you select your next ear pillow. Have a look at the following list:
1. SleepEasy CNH Ear Pillow
SleepEasy CNH Ear Pillow is one of the pioneers of ear pillows. Dr. Cannon, a renowned dermatologist, came up with the idea of a pillow with a hole for CNH patients in the late 1980s. It was a revolutionary idea and it had been since recommended for CNH patients and other ear ailment patients.
The high-quality filling and soft, comfortable pillow cover with just perfect pillow height make this ear pillow by far the best ear pillow for ear pain.
As a happy customer says:" This size pillow works best for me, better than full-sized CNH pillows. It offers a wider ear space too, which I find more comfortable. I use one at home now too, as well as taking it on the road. I put an over-sized (king-sized) pillowcase on it, them press the cloth into the ear area so my ear fits in very comfortably, and I can wash the pillowcases without taking the cover that comes with the pillow off. My CNH has cleared up completely since I've been using this pillow. I had invested a lot in pillows without as big an ear cut-out, and they kept some pressure on the outside rim of the ear where I get CNH. This one costs less and works best for me."
2. CNH Travel Pillow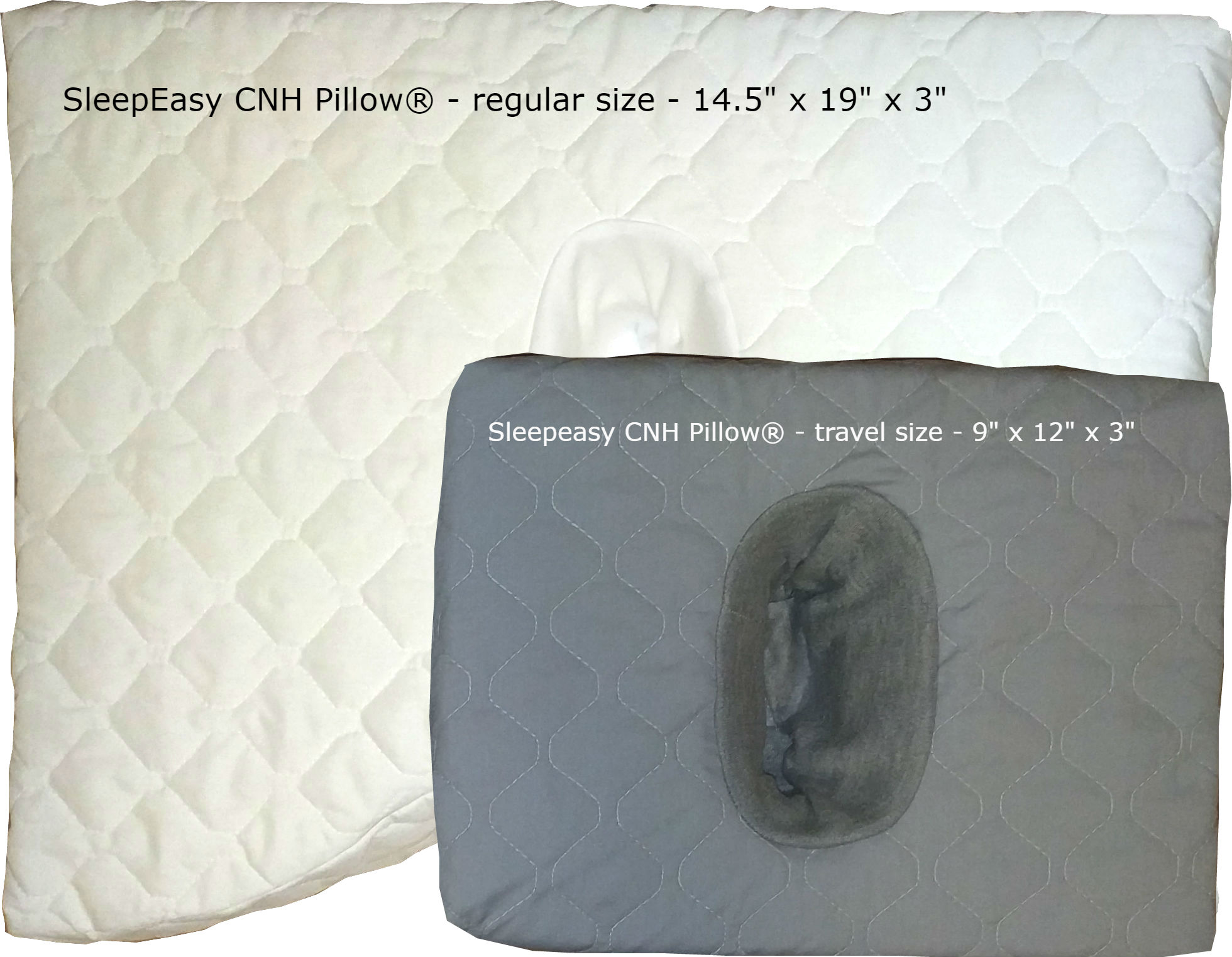 SleepEasy CNH Travel PIllow is a small size pillow made for people traveling with ear pain. This is a small size pillow measuring only 9''x12'' and fits easily inside your suitcase. The ear hole, large and across the pillow, allows ventilation. SleepEasy CNH travel pillow is a must-have travel accessory for people with CNH, ear soreness, or other ear problems.
3. CNH Pillow Cotton Comfort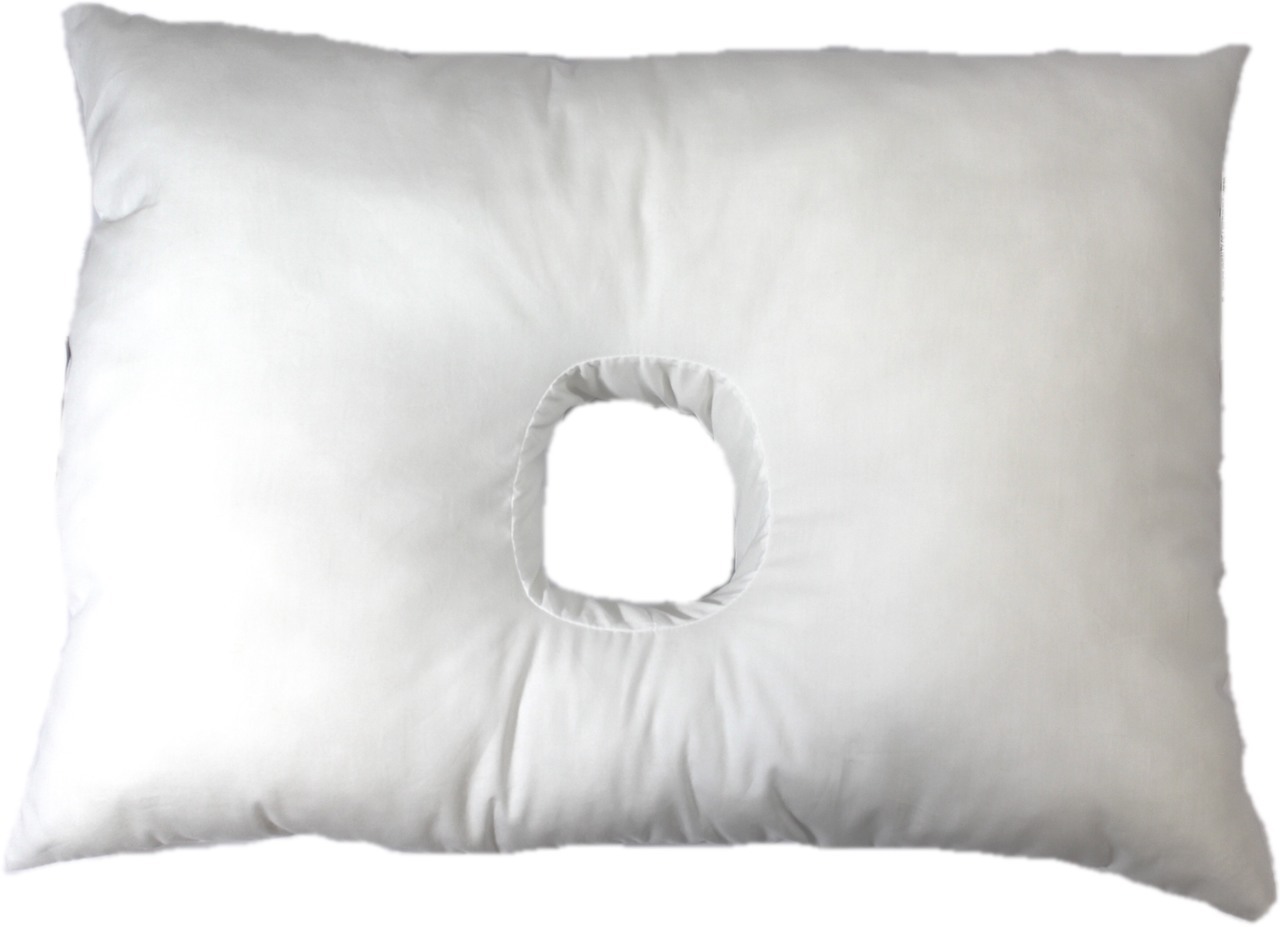 SleepEasy CNH Cotton Comfort Pillow is a standard size ear pillow with a large ear hole and hollow poly fiberfill. The pillow cover is 100% cotton and comes with a zipper. You can adjust the pillow for your required height by removing some filling. The pillow cover is also washable.
The ear pillow measures 19''x14''x4'' and the ear hole is 4''x4'' and it is machine washable.
4. PureComfort Side Sleeping Pillow
PureComfort offers this ear pillow for ear pain relief for side sleepers. This ear pillow has holes for ears on both sides. That means you can change sides without worrying about the ear pain and you will not have to adjust the pillow every time you turn.
PureComfort pillow for ear pain is height adjustable, the filling is memory foam and the pillow cover is made of bamboo fabric. PureComfort Side Sleeping Pillow offers you a good deal.
5. Remedy Contour Pillow
Remedy Contour Pillow is a curved pillow that offers good support for your neck, shoulders, and back. The added advantage is the ear pocket which provides relief from your ear pain and discomfort.
The pillow is specially designed for side sleepers. This U-shaped pillow replaces the need for many side pillows that side sleepers use.
6. OverstockedUS Sleep Buddy Side Contour pillow
OverstockedUS Sleep Buddy is a contour pillow for side sleepers. It comes with an ear hole. The U-shape offers good support for the neck, shoulders, and back. These contoured pillows provide better rest than the flat pillows.
OverstockedUS Contour Pillow protects your ear. It is a fine choice for people suffering from ear ailments like CNH etc.
7. PWAH Pillow with a Hole
PWAH Ear Pillow or 'Pillow with a Hole' are manufactured in the UK. It is a flat pillow with an ear hole. The pillow was designed for ear patients and most users of this ear pillow are CNH and ear soreness patients. However, PWAH pillows have been criticized in customer reviews for being too thin and not suitable for long-term use.
8. Womfy Ear and Neck Pain Relief Pillow
Womfy Ear Neck Pain Relief Pillow is one of the best choices for the best pillow for ear pain. Womfy Side Sleeper pillow comes with a very soft foam insert the cover is made of washable, very smooth, and comfortable bamboo fabric.
The shape and size of the pillow are excellent for aligning the head, neck, and shoulder in sleep. The ear pockets are on both sides and the sleeper can turn sides without any difficulty.
9. BlissBury Ear Pillow with Ear Hole
BlissBury Ear Pillow is a fine choice if you have ear problem and you are a side sleeper. BlissBury Ear Pillow is height-adjustable, and the filling is gel-infused poly fiber. The pillow will not get warm at night.
BlissBury Ear Pillow comes with a bamboo ear cover which is soft and luxurious to touch and lasts long.
10. MOYOAMA Piercing Pillow for Side sleepers
MOYOAMA Piercing Pillow comes with a hole. This pillow works best for people with ear piercing and ear ailments. The pillow provides good support to your head, neck, and shoulders. The small size makes it a good choice for traveling.
Our Recommendation
An ear pillow is a must-have for people suffering from an ear ailment. The ear pillow saves your ear from friction and pressure and helps you get sound sleep at night.
The selection criteria for the ear pillow include the ear pocket/ ear hole in the pillow, size and shape of the pillow, the filling material type, firmness of the filling material, pillow height, and pillow cover material.
For the best pillow for ear pain supporting, our recommendation is the SleepEasy Ear Pillow. SleepEasy CNH Pillow ticks all the boxes with its memory foam filling, comfortable cotton cover, perfect height for neck-shoulder-back alignment, and can easily be titled as the best ear pillow on the market.
FAQs
Are ergonomic pillows worth it?
The ergonomic pillows are designed for the human body. Unlike other pillows, these are not soft sacks to lay your body on. A pillow that takes care of your body shape provides better rest. The Ergonomic pillows provide a better sleep experience and are definitely worth it.
Can a Pillow Cause Earache?
Stiff pillows can cause earache. When you lay down on a stiff pillow, your ear is facing friction against the pillow and is getting crushed under your head weight. Many people complain of outer ear pain after using stiff pillows. Also, if your pillow gets warm in the night and causes sweating, it can also cause earache.
What are the Best Pillows for Sore Ears?
The best pillows for sore ears are pillows that come with an ear hole. For example, if you use SleepEasy CNH Pillow at night, you will get relief from sore ear pain and you can enjoy good sleep.
What is the best Pillow after Ear Surgery?
If you have been through ear surgery lately, you will need an ear pillow. The ear pillows come with a hole for the ear. The ear pillow keeps your ear safe from any pillow friction or squeezing ensuring sound sleep and quick recovery for you.