Posted by Dr. Cannon on Dec 24th 2022
Ear piercings have made a comeback in 2022 and we expect the trend will grow in 2023. We are leaving 2022 and going into 2023. It is time you try a fresh, fashionable ear piercing style.
We have created a collection of ear piercing ideas for females that you must try if you want to make a solid fashion statement at new year. Check out some ear piercing ideas, see how soon they will heal, and get an idea of the pain you will face in getting that ear piercing.
Ear Piercing Ideas for Females You'll Love
It is time to go beyond the classic, always-elegant ear lobe piercing and get trendy with these new ear piercing styles.
1- Industrial Ear Piercing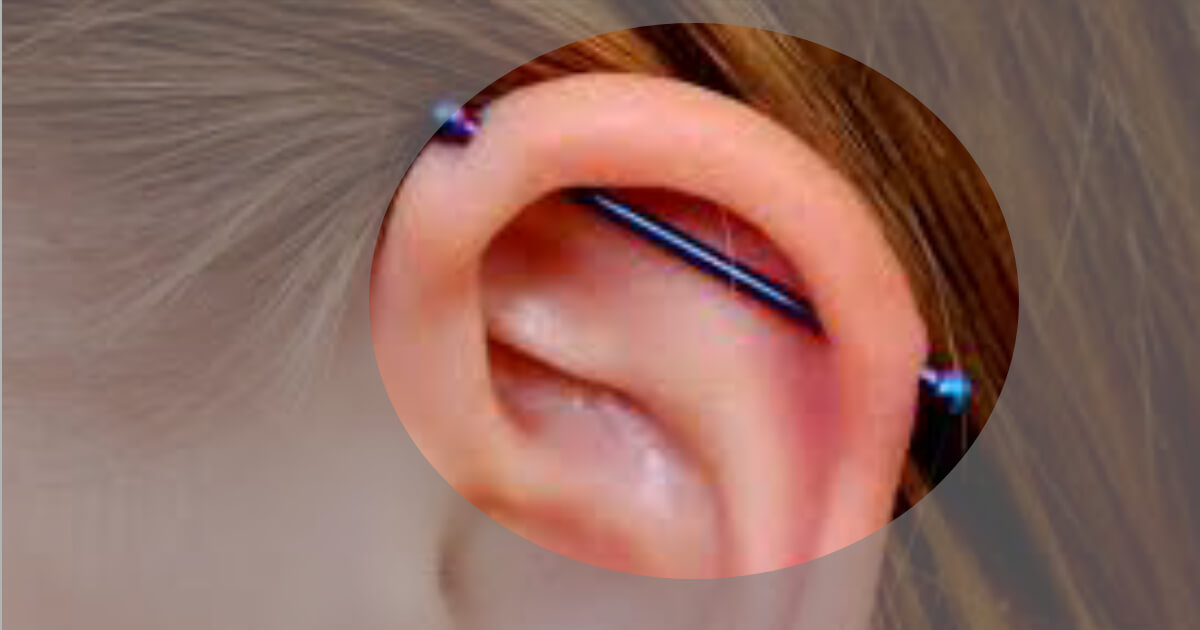 The industrial ear piercing is probably the most popular ear piercing trend. It works with two ear piercings in your ear cartilage, or the hardest part of your ear. It is painful but the jewelry will look great with industrial ear piercing.
Healing time: Approx 9 months to one year
Pain: Very painful
2- Tragus Ear Piercing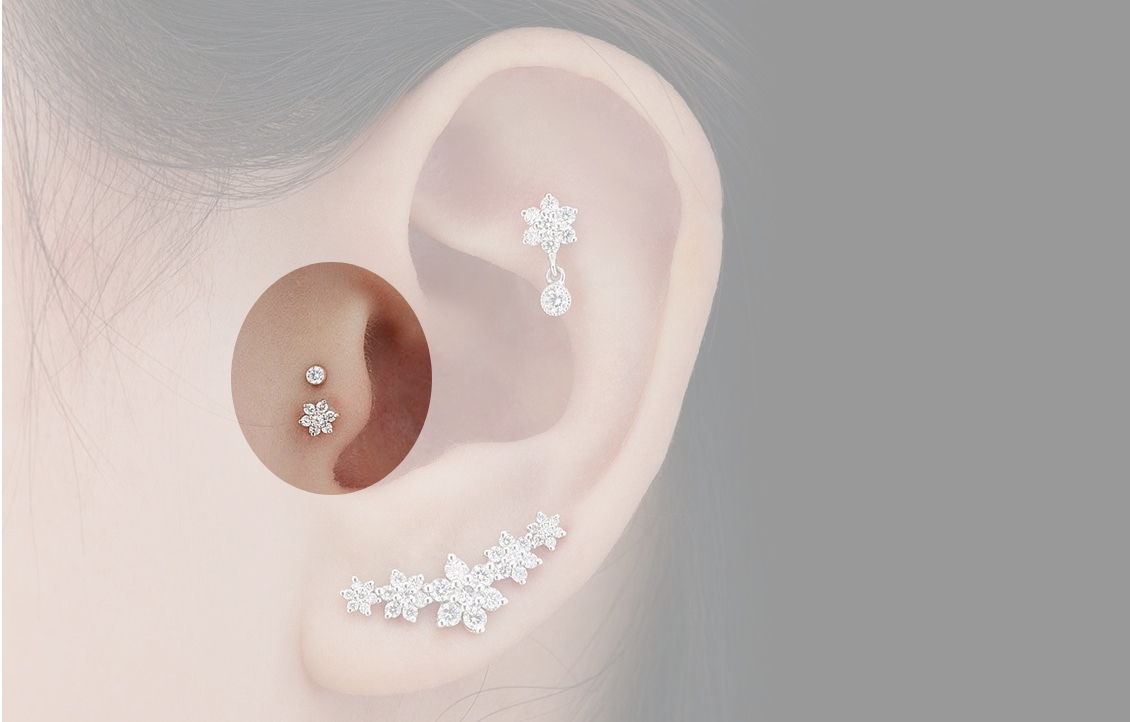 The tragus is the small bump in your ear that is close to your ear canal. The tragus ear piercing makes a bold fashion statement like no other.
Healing time: Approx 9 months to one year
Pain: Truly painful
3- Anti-Tragus Ear Piercing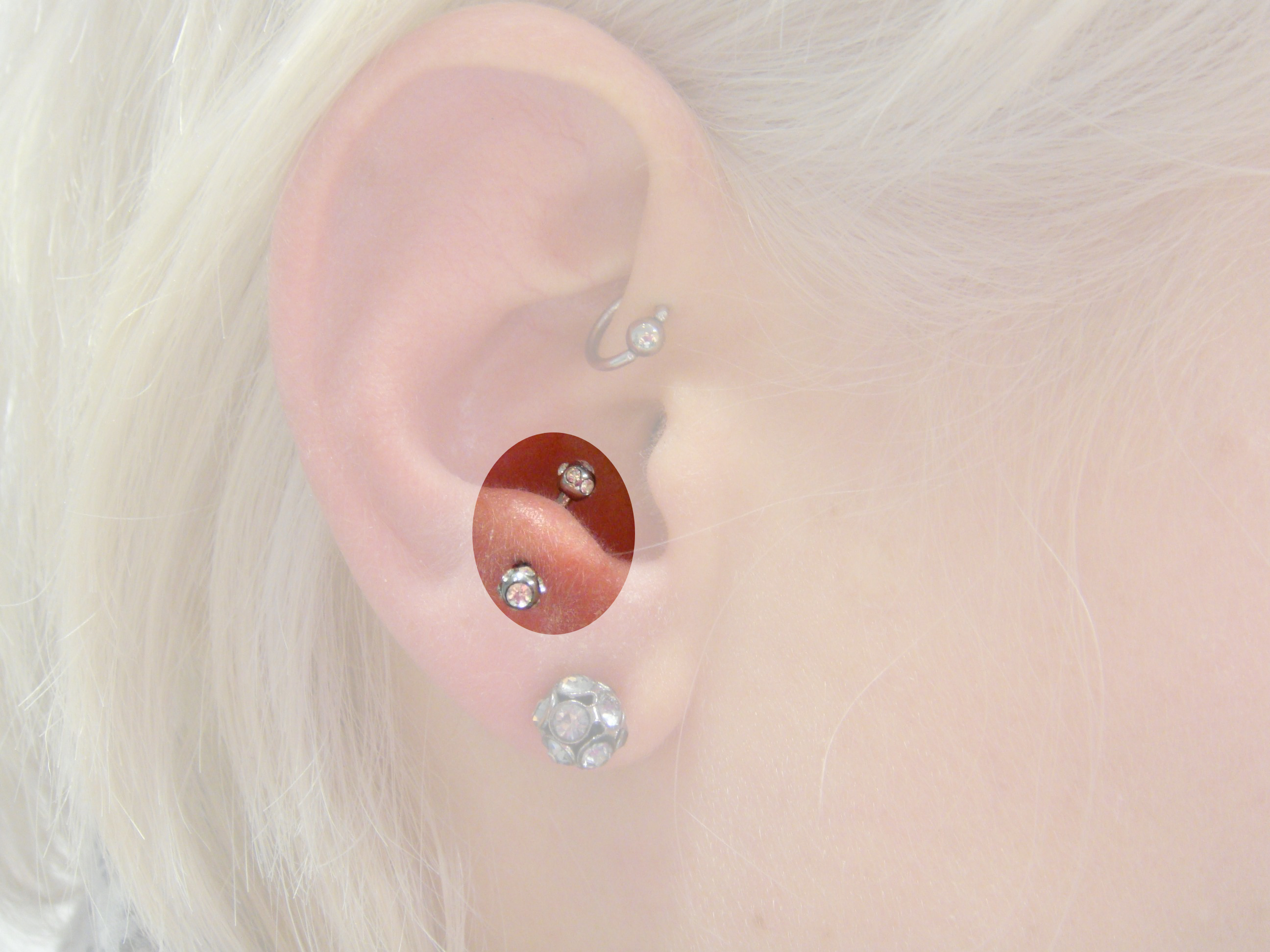 The bump right in front of the tragus is anti-tragus. Both tragus and anti-tragus look good with thoughtful jewelry combinations of other ear jewelry.
Healing time: Approx 9 months to one year
Pain: Truly painful
4-Brian Keith Thompson's Signature Constellation Piercing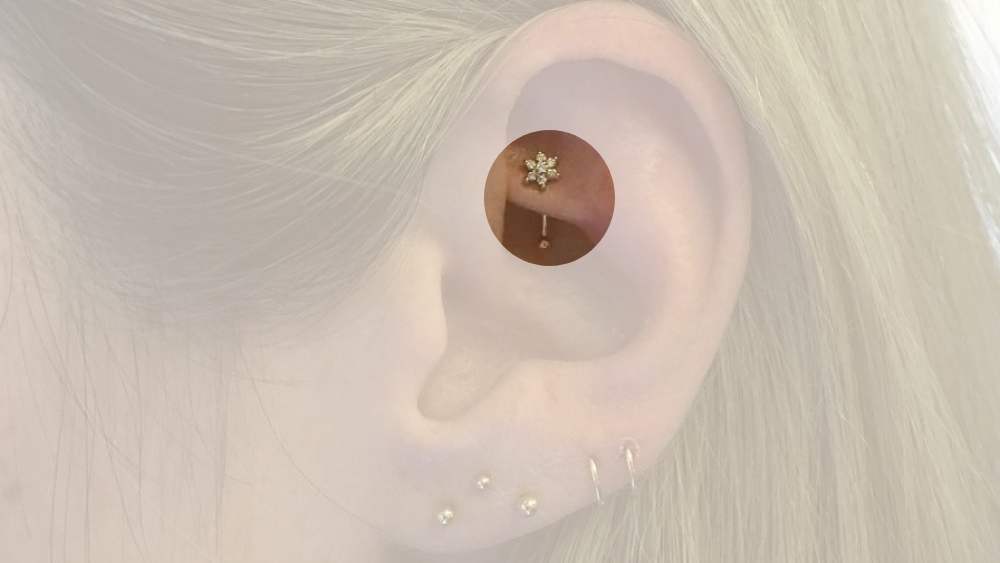 Brian Keith Thompson is a star piercer. He is known for working with Beyonce, Adele, Jenna Dewan, Emma Stone, Jennifer Lawrence, and many other celebrities. Constellation piercing style is his signature style. This ear piercing style was also a top trend on Pinterest.
The constellation piercing has multiple piercings, think of 4 or more, that are mostly in your ear lobe. These are perfect for small ear jewelry and give a look of star constellations
Healing time: Approx 3-6 months
Pain: Low if all ear piercing are in the ear lobe, medium if you get piercing on the cartilage too
5-Triple Lobe Piercing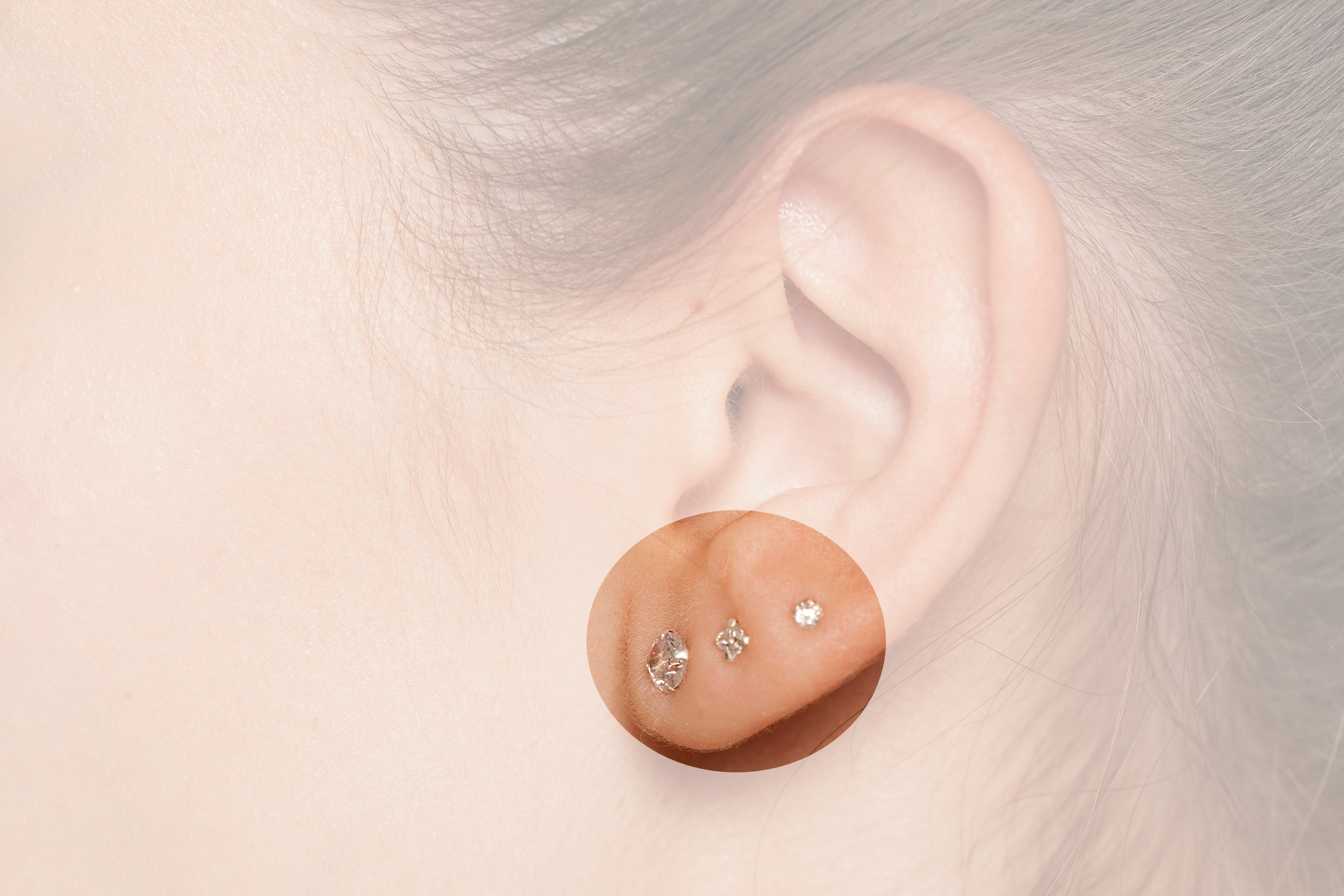 The times of single ear lobe piercings are gone. Try this new triple lobe ear piercing style to make your ear look the best it can.
You can experiment with the ear piercing design jewelry for all three lobe piercings or you can make a stunning show of the beautiful ear jewelry you have.
Healing time: Approx 2-3 months
Pain: Not much pain
Get Good Sleep When Your Ear Piercing is Healing
The ear piercing pain and discomfort can get in your way of getting sound sleep at night, our Ear Piercing Pillowhelps you get good sleep with ear piercing.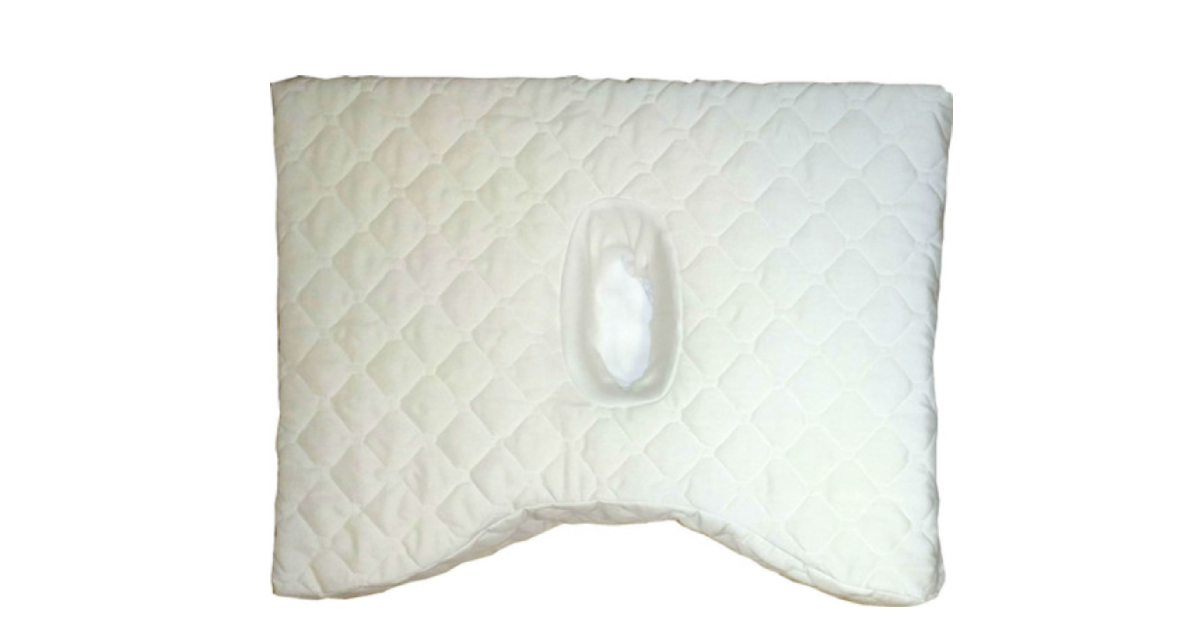 Piercing Pillow works by creating a cushion between your ear and the bedding/pillow. Your ear piercing doesn't touch anything and doesn't get pressed or squeezed. You are sure to have a quality sleep with your ear piercing which will also help you heal quickly.
6- Daith Ear Piercing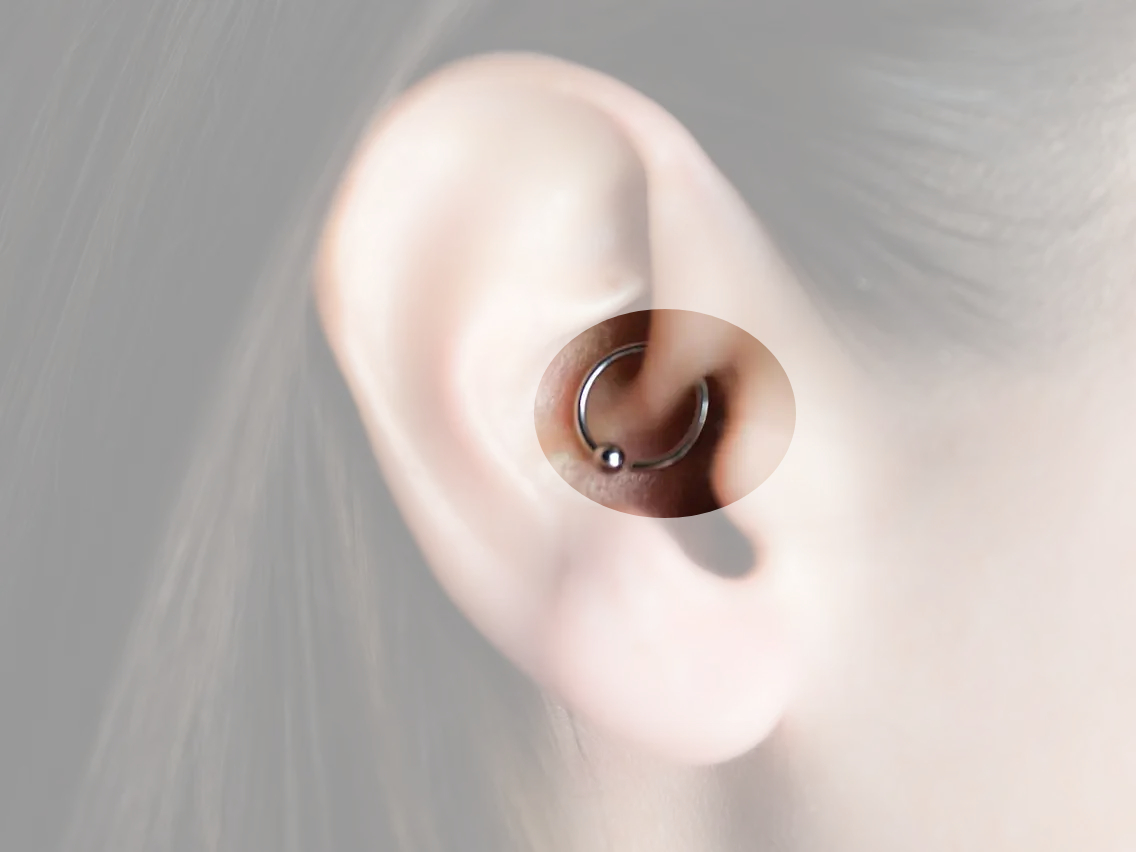 Looks like it is inside the ear, the daith ear piercing is not something you see every day. It is unique and it will stay unique for many years to come. If you can bear the pain of getting your daith ear pierced, you won't regret it.
The daith ear piercing is one the latest in ear piercing fashion.
Healing time: Approx 9 months to one year
Pain: Truly painful
7-Double Inner Conch Piercing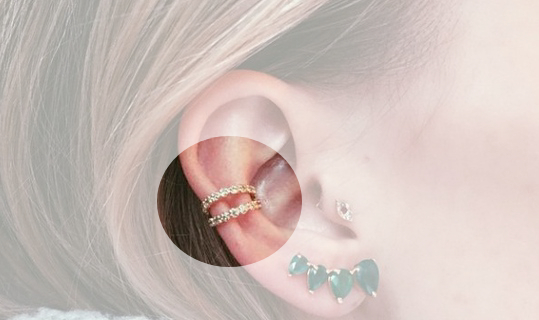 Inner conch will always look cooler. It makes you look different, even in a crowd. This new year, don't get single inner conch piercing, get double inner conch piercing.
Healing time: Approx 3-6 months
Pain: it will test you pain tolerance
8-Double Ear Lobe Piercing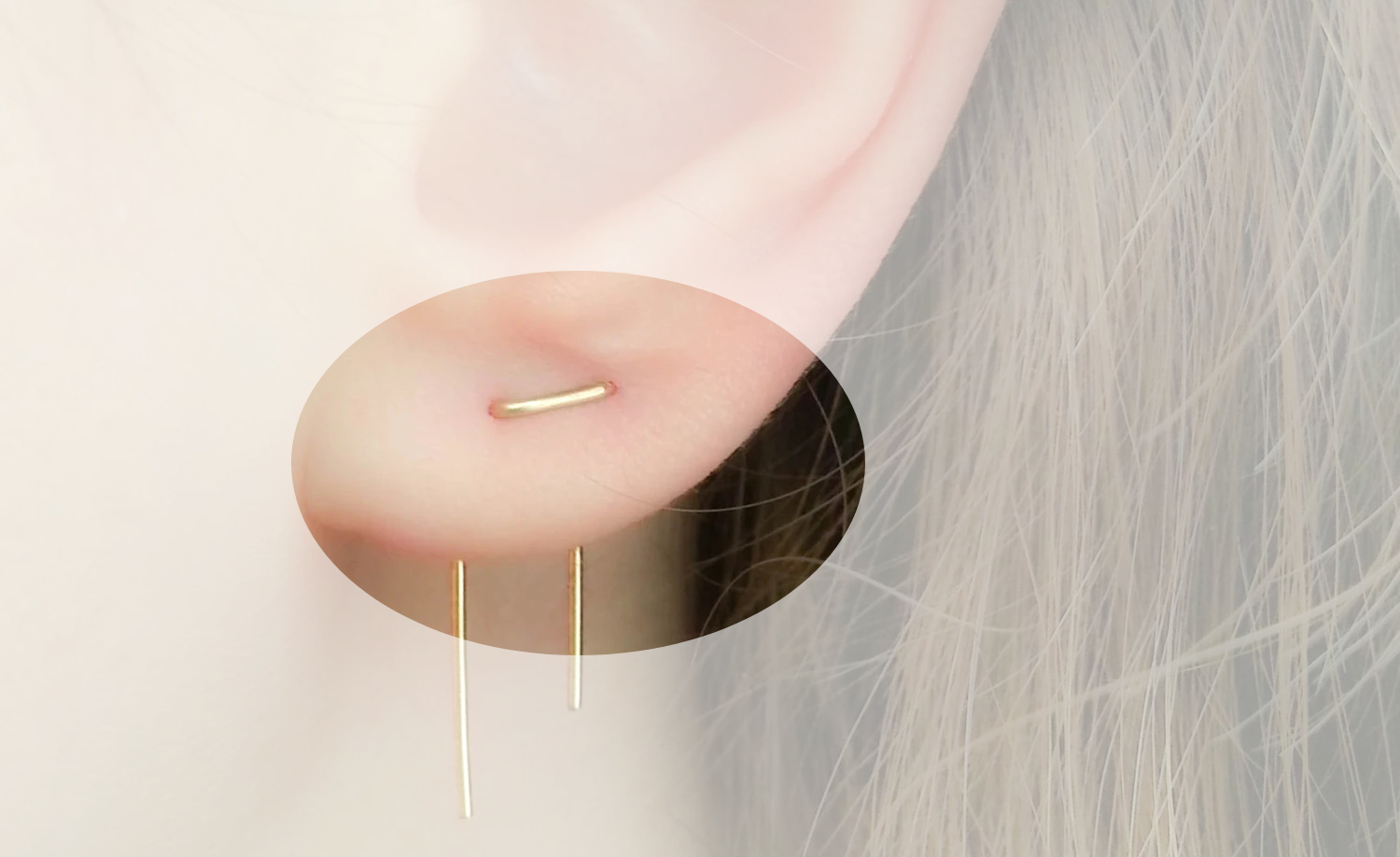 Double ear lobe piercing is close to classics but correct jewelry will make it a fashionable-classic. Use small string jewelry for two ear lobe piercings or experiment with new jewelry and see how great it looks on you.
Healing time: Approx 3-6 months
Pain: Low
9-Triple Helix Piercing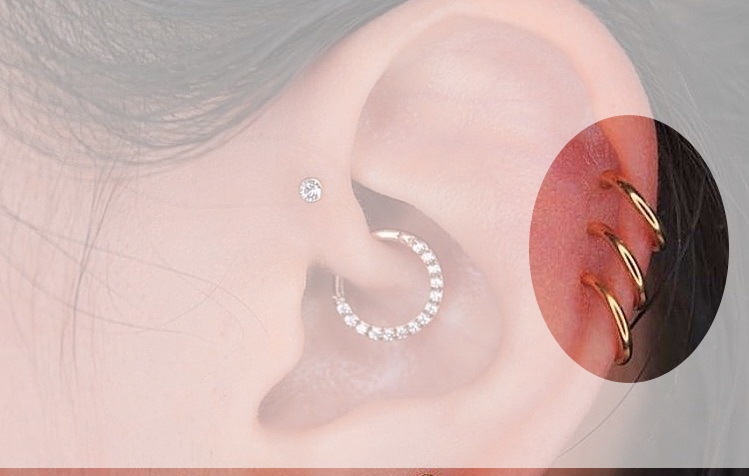 Helix piercings are painful. A triple helix piercing looks great and gives you an edge over the crowd.
Healing time: Approx 9 months to one year
Pain: Will test you pain tolerance
10-Double Forward Helix Piercing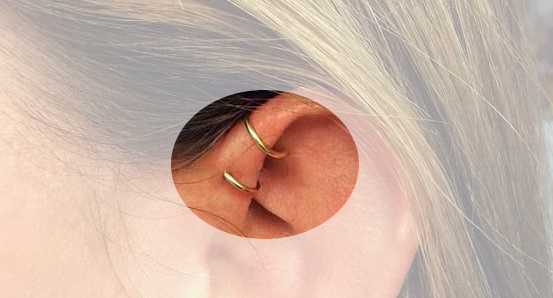 Double forward helix piercing looks great when you use gemstone studs. Small, gold-colored, or gem studs will complement your style.
Healing time: Approx 9 months to one year
Pain: maybe the most painful
How to take care of your ear piercing?
Your ear piercing care is easy if you keep the discipline. Here is how you should take care of your ear piercing to make it heal quickly.
Don't touch your ear piercing with dirty hands, always wash your hands before you touch your ear piercing
Clean your ear piercing with saline or salt water or anti-bacterial soap twice daily.
Apply antibacterial ointment or cream on your ear piercings to make it heal even quicker and almost painless.
For adults, don't remove your ear jewelry for at least the first 6 weeks or your ear piercing hole may close.
Lightly move your ear-piercing jewelry daily to keep it unstuck.
Use an ear piercing pillow to get a quality sleep.
Keep on the lookout for the signs of ear piercing infection. Some ear infection symptoms include redness of the ear piercing area, pain, fluid discharge, swelling, and fever.
Consult your doctor if your infection in piercing is persistent. If left untreated, the infection can spread to other body parts like the neck, etc.
How to find an Ear Piercer?
Finding an ear piercer, especially the one who is worth his salt, may be a challenge. Here are some places to start your search for ear piercers that can do a quality job.
Start your search with tattoo parlors or piercing studios. Many piercing studios have ear piercings and a good , hygienic environment.
Another great place to find the right ear piercer is by looking on the Association of Professional Piercers.
For your shortlisted ear piercers, look into their portfolio, see their instagram feed, check the instagram posts they have been tagged in and read all the reviews you can find about them. Search 'pierce name + reviews" on Google to find their reviews.
Prefer needles over guns for getting your ear pierced. It is good for both the quality of the piercing and hygiene.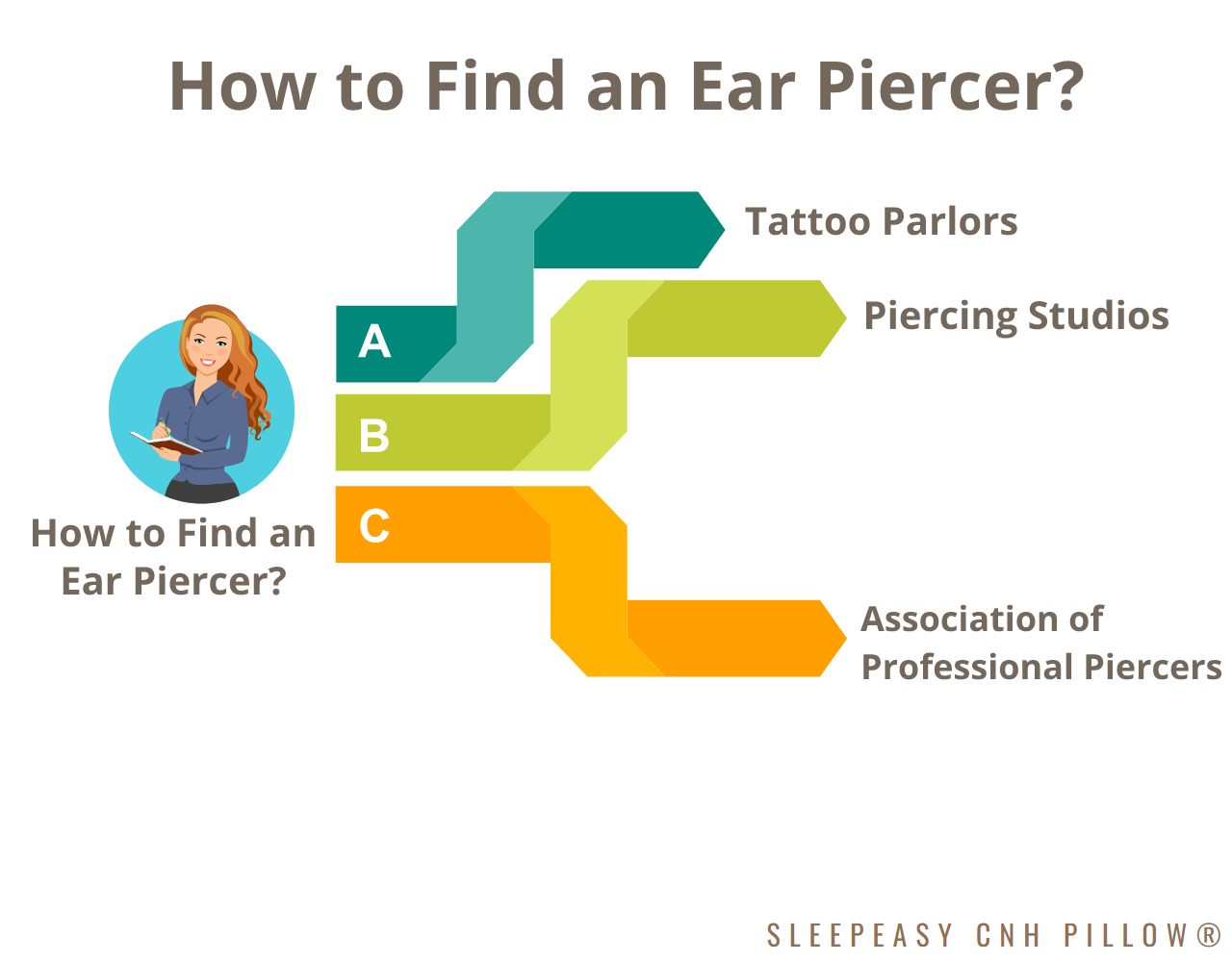 Understand How to Select an Ear Piercer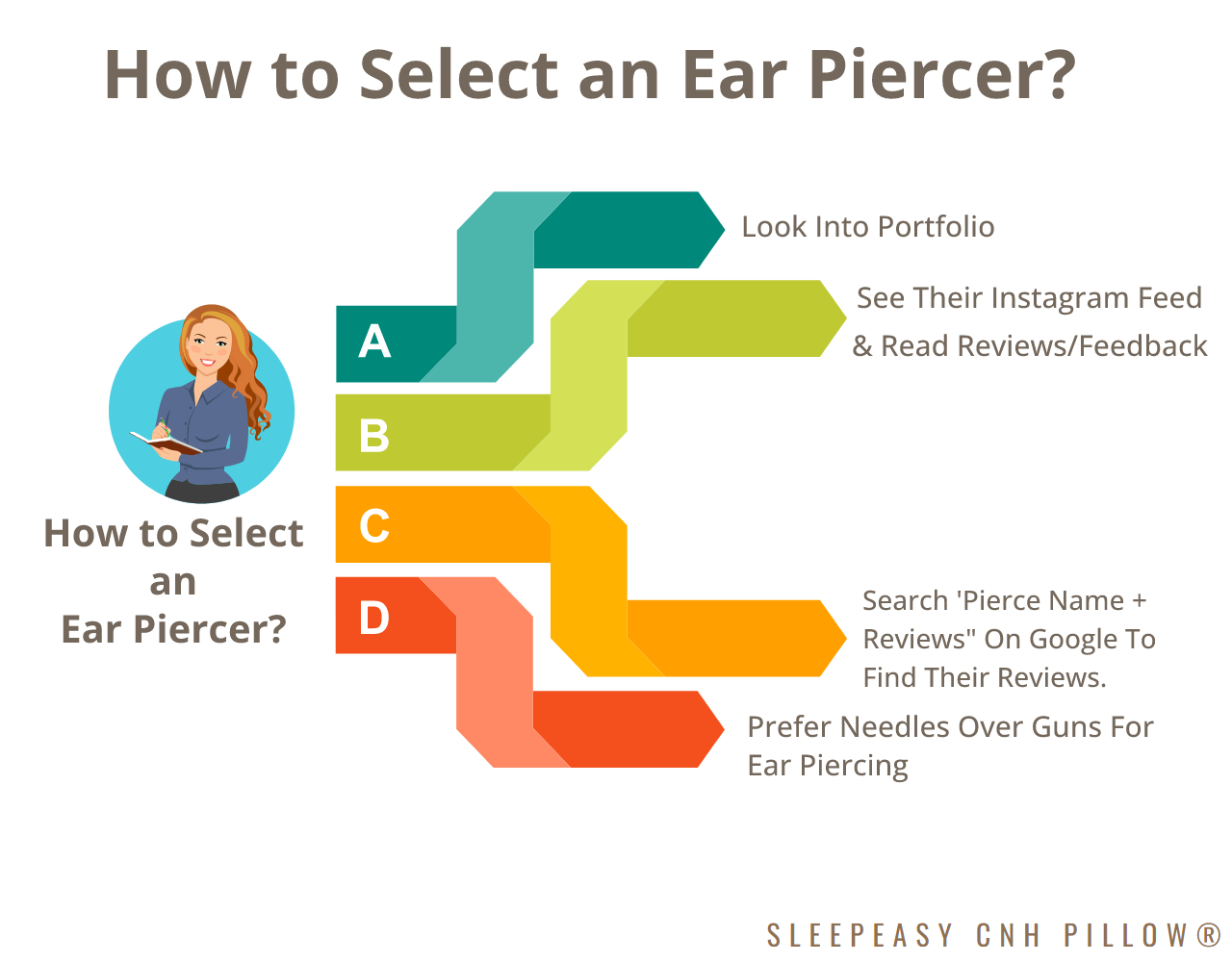 How to Clean Ear Piercings?
Here is the simple, step-by-step process of cleaning ear piercing yourself.
Wash your hands with an antibacterial soap
Prepare sea salt and water solution by mixing 1/8th-1/4th teaspoon salt in a cup of water. You can also use saline for washing your ear piercing.
You can also wash your ear piercing with antibacterial soap.
Dab a cotton ball in the mixture and gently clean ear piercing
Tap dry the ear piercing with a tissue or cotton
Do this process and wash your ear piercing twice daily.
Apply antibacterial ointment or cream on the ear piercing.
Keep checking your ear piercing for any signs of ear infection in piercing.