Posted by Dr. Cannon on Aug 20th 2022
For square pillows, the ideal size of a travel pillow is 14x20 inches as it will fit inside most suitcases and doesn't weigh much.
For pillows made for sleeping on a flight, train, or bus, the size of travel pillow should be small enough to fit inside your backpack or hand carry. Consider using an inflatable travel pillow which can be reduced to a very small size.
Sleeping on a train or an airplane is different from sleeping at home. You have limited sleep space and can't move around or turn sides.
Another problem that affects sleeping while traveling is the change in sleeping patterns.
A travel pillow may not put an end to all the disturbances of travel but it can considerably improve your sleep position and may help you get good sleep while on board.
A travel pillow provides support to the head and neck. Some travel pillows also come with chin support and prevent your head from falling forward.
Travel pillows come in baby, kids, teen, and adult sizes. These are the most common size travel pillows available on the market.
Read the description carefully and check if the size will fit you before you order a travel pillow online.
How to Select a Travel Pillow?
When shopping for your next travel pillow, evaluate a pillow on these standards.
Neck Support
The natural neck position in sleep is straight, which is not the case while traveling.
You will travel sitting on a seat unless you have a super expensive ticket. So, a travel pillow that provides good neck support is necessary.
See how you sleep usually, and buy a travel pillow that can give similar support. You can visit a store and try different pillows to find the one that gives good support for sleeping on a seat.
Pillow Fabric
Polyester may look nice but it is not a great pillow fabric. We recommend using cotton and organic fabrics for hot destinations and fleece pillows for cold destinations.
Pillow Size and Weight
Pillow size should be so small as to fit inside your backpack or hand-carry luggage. Most travel pillows are lightweight but are sure to check the weight and go for the lighter travel pillow.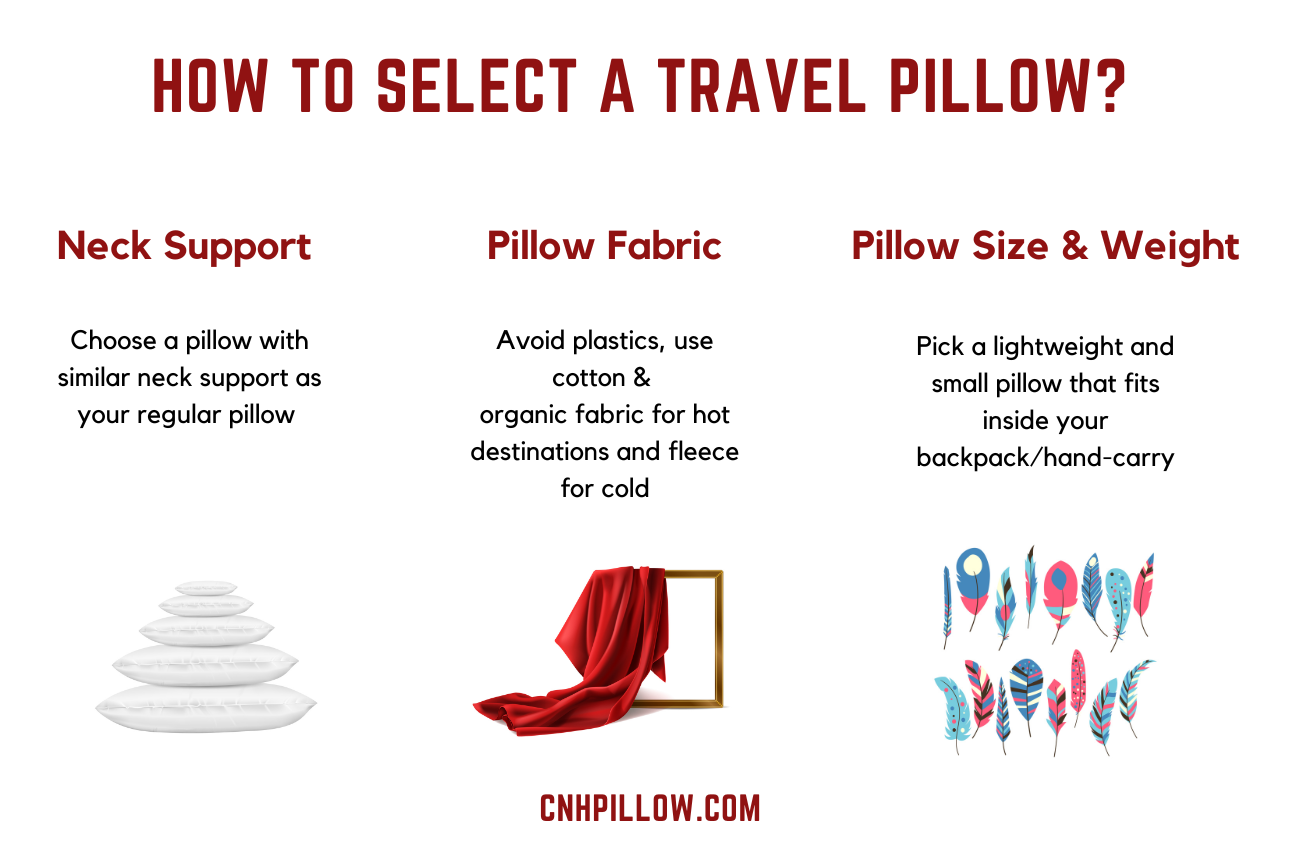 Size of Travel Pillow Ear Piercing
Traveling with ear pain is challenging. If you have to do it anyway, keep a travel pillow for ear pain with you in case you don't find a suitable pillow at your destination.
How does a travel pillow for ear pain work?
Travel pillows for ear pain work by creating a cushion between your ear and the pillow.
The travel pillow for ear piercing saves your ears from squeezing or getting crushed. You won't have to suffer any ear pain and you'll heal your ear piercing quickly.
Check our SleepEasy Travel Pillow for Ear Piercing and get a travel pillow that fits inside your suitcase and guarantees a good night's sleep with ear piercing.
SleepEasy Travel Pillow for Ear Piercing and Ear Pain