Shipping
Best choice: USPS Priority Mail - Delivers in 2-3 days almost always, and cheapest
Other choice: UPS Ground - Delivers in 5 days, guaranteed, costs more
We ship USPS Priority Mail, UPS Ground, or UPS Second Day Air. In many cases, Priority Mail will deliver in two days. If an order is received before 2pm CST, it will normally be shipped the same day. Orders received after 2pm will be shipped on the next business day. Orders are shipped from Hawley, Texas (USPS) or Abilene, Texas (UPS). If you have an urgent need, you might try calling (800-255-7487) before you place your order in case other options are available.
International Shipping
You can save money by ordering through eBay! eBay has a Global Shipping Program, which shows all customs and import fees up front, so there are no unpleasant surprises when your package arrives. Please consider buying your pillow on eBay if you are outside the USA.
Returns Policy

All returns MUST have a Return Authorization number and instructions prior to sending back. Please contact us within 10 days of sale to return an item.

Returned bedding products must be in original unused condition. Returned products may be refused or assessed a restocking fee if not returned in the original packaging. Returned products may be assessed a restocking fee if the plastic seal has been broken. Used products will not be accepted under any circumstances, and will be returned to the original purchaser at their expense.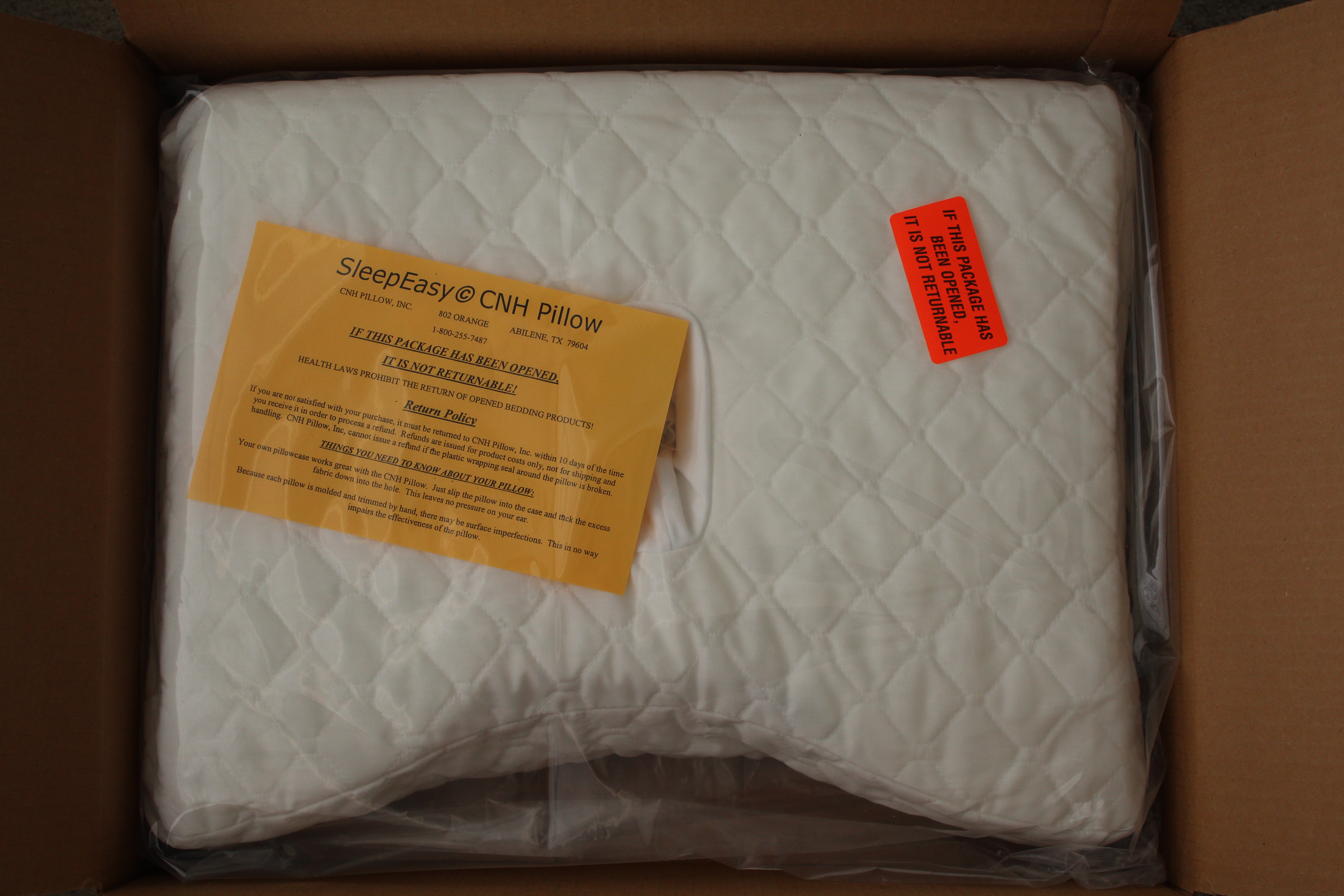 What should I do when I receive my pillow?
We package the pillows in the plastic as loosely as possible, so that you can examine it without removing the plastic:
Squeeze the pillow to determine firmness/softness

Look to see cover and how it's made

Rest your head to see if it is comfortable for neck and shoulders

Look to see exactly where hole placement is

GENTLY push plastic into the hole and rest your ear to get an idea of how it will feel

Place pillow on your bed, with or without other pillows, to determine height

Please do all of these things before removing the plastic!
You cannot remove the plastic cover, sleep on the pillow, and then decide to return it. You WILL NOT be able to test it out for the length of time it will take to heal a pressure sore.
Why can't I try it out and send it back if I don't like it?
The CNH Pillow is not a "try before you buy" product. Because this is a bedding product, we are prohibited from reselling returns that have been used. Once you sleep on it, we cannot accept it as a return. We have made every effort to fully inform the customer of both our return policy and to ship the pillow in such a way that the customer can make an informed decision without breaking the seal on the clear plastic cover.
What if I break the seal, and then I am dissatisfied with the pillow?
Please call us! (800-255-7487)